At Hyperlocal, we know how important it is to boost your website's visibility. A business's online presence is one of the most important factors a consumer considers before making their purchase – that's why we work hard to make sure they see your business first.
We're grateful for all of our awesome clients who partner with us, and we love to see your brands succeed!
We're excited to announce that we've been recognized us as one of the top SEO companies in Chicago by Clutch, a B2B ratings and reviews platform.
On Clutch, we've received a couple great 5-star reviews that we'd love to share with our community. These reviews come from some of our clients who have offered to share their experiences working with Hyperlocal.
We were reviewed by Chicago Roof Deck after we designed a website and provided SEO and PPC for them.
We helped the company redesign its website, and then created a comprehensive marketing plan that resulted in 50% more hits on its website and 80% more incoming leads.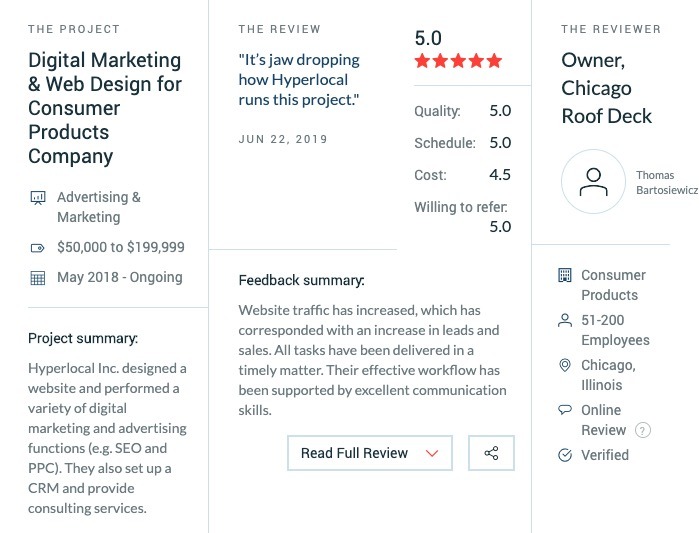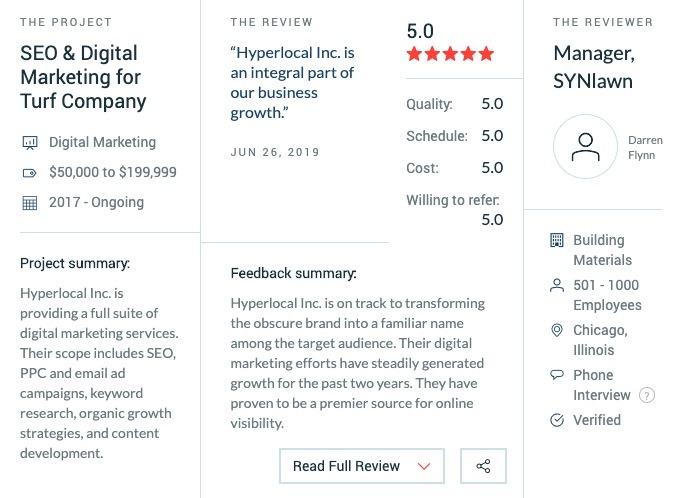 The owner of Chicago Roof Deck was impressed by our prompt communication and great time management.
"Everything was on time, superb communication with all team members and primary by the effectiveness of their marketing." – Owner, Chicago Roof Deck
Another client took the time to review our company. We worked with SYNlawn, a Chicago-based turf company, to provide SEO, PPC, and an email marketing campaign. We also curated online content for SYNlawn in order to boost its online presence.
"We set very ambitious goals, and their team managed to surpass our projections. Their work undoubtedly deserves the highest praise." – Owner, SYNLawn
The manager gave us a 5-star review because of our dependable team of experts and our hands-on, goal-oriented approach to our work.
We appreciate all of our awesome clients who took the time to write about their experience with us. Nothing makes us happier than seeing a satisfied client, so these reviews make us feel great!
Hyperlocal is also lucky enough to be featured on The Manifest, Clutch's sister website, as one of the top content marketing companies in Chicago.
At Hyperlocal, we strive every day to put our clients first. If you would like to work on your next project with us, contact us!
Photo by Ian Schneider on Unsplash